Emergency Services. Temporary power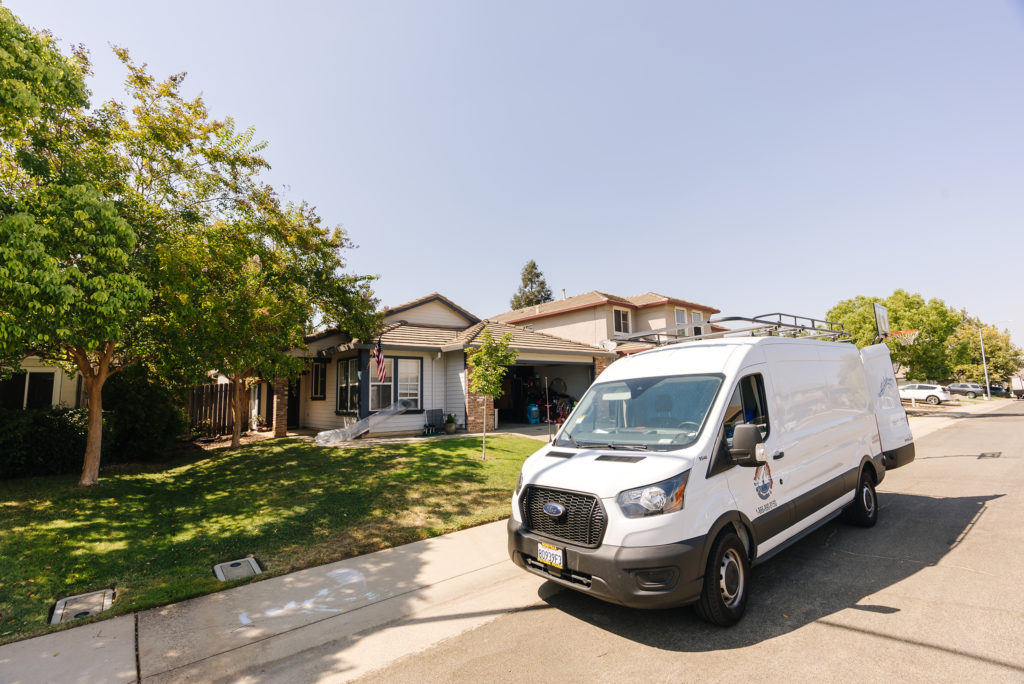 You might know our company, Lawton Construction & Restoration, as a company that offers water damage cleanup and flood damage restoration in the Northern California and Nevada regions. Though we are the top reconstruction contractors in these areas, we also offer other emergency services, such as temporary power and temporary power distribution systems.
At first, it might not seem necessary to someone to have a resource for temporary electricity, but in this article, we'll explain why it's a good idea to trust our company in a power emergency, and always keep our number on hand to call us in your time of need.
Why would a person, family, or business need power on demand?
1 ) To keep important household appliances running:
Having an emergency power source will allow you to keep the necessary appliances running in your home, like overhead lights, the refrigerator, and even medical equipment. Can you imagine having to do simple tasks in the dark like combing your hair or even finding matching socks? When power is fully restored, your household won't miss a beat.
2 ) To prevent food spoilage:
Imagine just returning from the grocery store and you have just restocked your refrigerator and freezer full of perishable items. Because power outages can come on all of a sudden and usually have the worst timing, imagine one occurs and the sinking feeling you would develop
knowing that you've likely wasted money and lost your meals for the week. Emergency temporary power by Lawton Construction and Restoration would prevent this stressful scenario from taking place, keeping your fridge and freezer running smoothly.
3) To protect your home from flood damage:
This next scenario happens more in wintertime in the Northern California and Nevada region, however, when winter thunderstorms come, rain that can cause potential flooding comes with them. If you are fortunate enough to have a sump pump, you can combat excess water in your basement, until the power goes out. Unfortunately, that would leave you with a sump pump that is inoperable. Then you would be left with just hopes and prayers your house does not fill up with water.
4) To keep your home (and your family) comfortable:
Power outages are very inconvenient for all in the short term, but the longer they last, the less comfortable your home will be without heat (in the winter) or air conditioning (in the summer, especially in the Sacramento region. Having an emergency power resource will keep the amenities your house was made to have (such as central heat and air) working, and also keep them from sitting in the dark.
5) To give you peace of mind:
Helplessness is an awful feeling to have during an emergency, and so is regret of not having a plan in place when you need one. Having a temporary power source is one way to be prepared for an outage. You won't have to be dependent on your utility company, and you won't be constantly looking at your watch and wondering when the power will be restored. You WILL feel assured your household will remain unaffected for the most part, and continue to run as normal.
As there are many reasons to have an emergency power supply around the house, there are also scenarios having a backup power source is a necessity when running a business.

When your Sacramento job site or business doesn't have power to run equipment or there is a power outage, you'll need temporary construction power until permanent power is available again. That is where Lawton Construction & Restoration, Inc. comes in. Call us for complete power-on-demand solutions, anywhere in the Sacramento area, until there is a permanent power connection.
We also provide Sacramento area builders with several different temporary electrical service solutions, such as power distribution boxes that are weatherproof and secure from unauthorized entry and interference, and are housed in a suitable pillar or pole mounted box that is accessible from the road. This is to provide the builder with electricity to operate construction equipment, such as nail guns, power saws, and lighting.
Of course, when there is a power outage on your undeveloped property, sometimes it can take
to get the power restored. Instead of waiting for the city to get your power back on, you can call
Lawton Construction & Restoration, Inc. to provide temporary construction power. We provide superior emergency temporary electrical demand services.
Lawton Construction & Restoration, Inc. offers many options of temporary power distribution systems that allow you to supply emergency and temporary power for a wide range of applications. Most systems are suitable for use inside or outside on the job site and are available with GFCIs (ground fault circuit interrupters).
As mentioned above, construction equipment that runs on electricity is used frequently in a new home build. Lawton Construction & Restoration, Inc. fields temporary power distribution boxes and meters for new construction sites throughout the valley.
Choose us to subcontract your temporary power because of our reliable and effective temporary construction power solutions. We get the job done without headaches or hassle when starting a new build. We'll supply the power, and you are free to do what you do best–build!
Whether it is your home, your business, or your job site, Call Lawton Construction & Restoration, Inc. anytime you need a temporary power distribution in the Northern Sacramento or Northern Nevada region. You'll be satisfied with our services for temporary power after a disaster, or while you're just trying to run your business. We offer emergency service 24/7 and are always standing by to take your call: (866) 552-1763.
Who We Are
Lawton Construction & Restoration. Proudly serving in North California & Nevada since 1976.
Turnkey services: Emergency, Restoration, Content Care
All levels of complexity: Residential, Comercial, Industrial
Fast interaction with all insurance companies.
Want to know why we are the best?
We're glad you asked!