Commercial Storm Damage Restoration, Repair & Cleanup Services in Woodland, CA
Storms and flooding disasters happen in an instant. This is especially true in Woodland, where proximity to the Pacific Ocean means extreme weather conditions are common. When a storm or flood strikes your property, you'll want a reliable group of contractors on standby. That's when you should turn to Lawton Construction & Restoration, Inc. Our team has comprehensive experience with storm damage restoration, meaning we are able to restore and repair your commercial building to its pre-damaged state, regardless of the scope of the damage. Don't risk the restoration of your business to a less experienced crew, call Lawton Construction & Restoration, Inc. as soon as you need 24-hour storm damage cleanup in Woodland.
Emergency Storm Damage Cleanup in Woodland
Dealing with the complex mess of storm damage cleanup is overwhelming and costly. When you tack on the potential liability to staff, personnel, or future clients, you're looking at a lengthy road to restoration. Luckily, Lawton Construction & Restoration, Inc. offers a more organized and transparent emergency storm damage cleanup service in Woodland. By combining tried and true storm damage repair strategies with modern technology and exceptional logistical management, our specialized 24-hour storm damage cleanup team delivers results that are nothing short of exceptional. We'll have your Woodland commercial property back again to normal with storm damage cleanup services.
Wind & Hail Damage Restoration in Woodland
Hail falls at high speeds, causing extensive damage to your roof or other parts of your commercial property. When the seasonal storms come and cause damaged walls, leaky ceilings, and cracked windows, it's time for hail and wind damage restoration. Luckily, Lawton Construction & Restoration, Inc. has the equipment and expertise for hail damage restoration, no matter scope or type of commercial building. Schools, hospitals, restaurants, retail locations, it doesn't matter! We've got the practical knowledge from years of hail damage restorations, meaning we're one of the only companies in the Woodland region with this level of expertise. Regardless of the scope of the hail or wind damage restoration, we will restore your commercial property to its unique state!
Storm Damage Restoration in Woodland
Because commercial property owners often have a lot at stake after a storm passes through, it's crucial to have a trusted commercial hail damage remediation team on speed dial. This way, you don't need to waste time searching for a specialist when disaster strikes. Our dedication to providing the most comprehensive and affordable commercial damage restoration in Woodland means we field state of the art gear to help us provide you with the best service we can. When you need commercial storm restoration and repair that you can count on, call Woodland's trusted team — Lawton Construction & Restoration, Inc.
---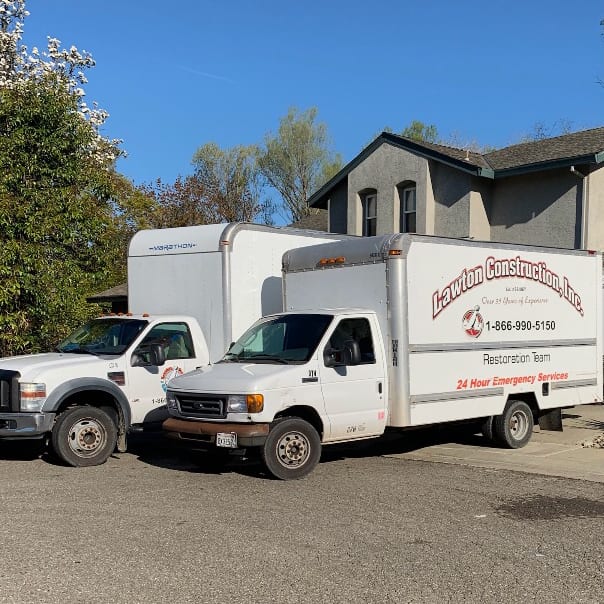 Call Today for Restoration and Construction in Woodland, CA
If your residential, commercial, or industrial building has been damaged by a natural disaster, you can rest easy knowing that Lawton Construction & Restoration, Inc. has you covered in Woodland, CA. From water and flood damage to fire and smoke cleanup, we have trained construction and reconstruction crews ready to tackle your needs around the clock. We can even provide third party mold, lead, and asbestos testing, and help you with the removal process. We are just a phone call away, so don't hesitate!