Mold Remediation & Removal Services in Woodland, CA
When you find mold in your Woodland property, prompt and professional mold remediation can save you from thousands of dollars in repairs, stress, and poor health. While water exposure is one of the leading causes of mold, there are several other conditions that promote insidious mold growth. With modern techniques specifically designed for home mold remediation applications, to get rid of and prevent further mold development, the team at Lawton Construction & Restoration, Inc. gives our customers reassurance with one of the most comprehensive approaches to mold remediation and repair service in Woodland!
Home and Commercial Mold Remediation in Woodland
In the event that you suspect mold growth on your Woodland home or commercial property, one of our certified team members will be there to provide mold removal you can rely on. Neglecting or procrastinating a home mold remediation could negatively affect the health of your family, and the same goes for commercial property owners; putting off commercial mold remediation can shut your business down. If you think you might have even a tiny amount of mold growth, contact Lawton Construction & Restoration, Inc. It's much better to be safe than sorry, especially when it comes to mold growth in Woodland!
Woodland's Expert Commercial Mold Remediation
Mold growth happens regularly when your commercial property undergoes water damage or experiences high levels of humidity. Nevertheless, mold spores are already present in the atmosphere, and it just takes a little bit more water to get the spores to thrive into a full blown mold contamination. For this reason, many commercial property owners don't find out about mold problems until they are way too late. Luckily for Woodland residents, Lawton Construction & Restoration, Inc. offers comprehensive commercial mold remediation, from picking out the best inspectors, to offering turnkey removal and cleanup solutions.
Water and Mold Remediation and Restoration in Woodland
It's not uncommon to see water and mold remediation services packaged together, because when there's water damage, you'll typically have mold problems shortly after. Many Woodland property owners ignore or underestimate the threat of mold after water damage, which often causes harmful exposure. If you suspect you've got mold as a result of water damage anywhere in Woodland, call the professional group of water and mold remediation pros to save your health and minimize the impact on your wallet.
---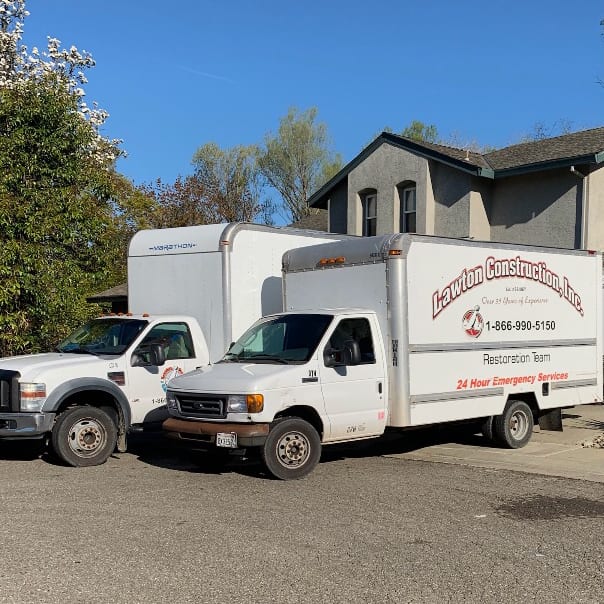 Call Today for Restoration and Construction in Woodland, CA
If your residential, commercial, or industrial building has been damaged by a natural disaster, you can rest easy knowing that Lawton Construction & Restoration, Inc. has you covered in Woodland, CA. From water and flood damage to fire and smoke cleanup, we have trained construction and reconstruction crews ready to tackle your needs around the clock. We can even provide third party mold, lead, and asbestos testing, and help you with the removal process. We are just a phone call away, so don't hesitate!