Industrial Storm Damage Restoration, Repair & Cleanup Services in Carson City, NV
An industrial property damaged from a storm or hail is a worst case scenario for many facility managers and homeowners alike. Additionally, Carson City storm conditions combined with often dangerous chemicals stored on industrial properties increases the risk of injury to personnel and cost to the property owner. Fortunately, Lawton Construction & Restoration, Inc. provides one of the most comprehensive methods of commercial storm damage cleanup and storm damage repair through the entire Carson City area. With access to specialized products, there's no industrial storm damage repair work we can't handle. Give us a call today; you'll be pleased you did!
Industrial Storm Damage Restoration in Carson City
If you suffered storm damage to an industrial facility, there are several steps you must take to restore normalcy to your daily life. Before anyone can come and work on your property, you need specialists to evaluate the damage and build a customized restoration strategy. That's why Lawton Construction & Restoration, Inc. has a dedicated team ready 24/7 to provide comprehensive commercial storm damage restoration, regardless of the scope of the project or time of day. From initial claim assistance to remodeling and redesign consultation, we are Carson City's go-to team for industrial storm damage cleanup.
Carson City's Emergency Storm Damage Cleanup
At Lawton Construction & Restoration, Inc., our approach to emergency storm damage cleanup is unique. Instead of just showing up, getting subpar work done, and then leaving, we focus on developing a long term relationship with you. This means our Carson City based, 24-hour storm damage cleanup will keep you satisfied for a long time coming, and you won't have to shop for a contractor every time you have an issue with your commercial facility. It's due to our sustainable approach to 24-hour storm damage cleanup that we've earned the trust of the Carson City community.
Industrial Wind & Hail Damage Restoration in Carson City
Hail and stormy weather conditions wreak havoc on your industrial facility in Carson City. This is often because hail falls at high speeds, requiring wind and hail damage restoration to your roofing or other areas of your property. If you want industrial wind damage restoration, Lawton Construction & Restoration, Inc. is the go-to team. With years of experience working directly with industrial facility managers, we've been able to optimize our hail damage restoration services to continually add value to our customers' property. This has made us one of the most comprehensive solutions in the region, from insurance assistance to complete wind damage restoration services at prices you'll love. Contact today and explore our full suite of industrial hail damage remediation solutions in Carson City.
---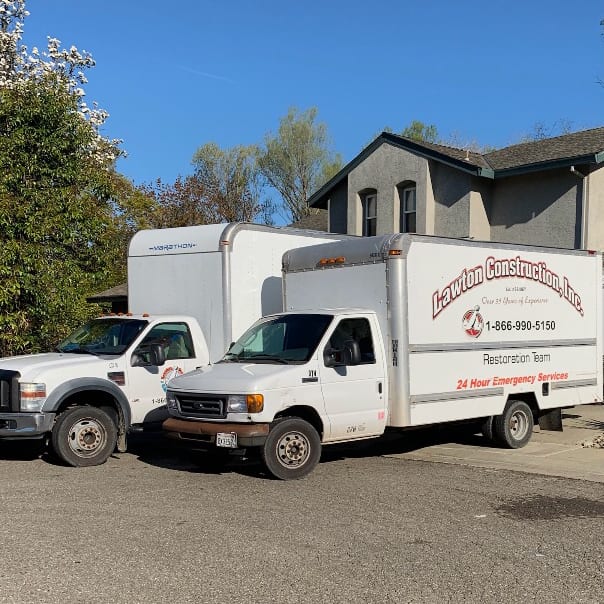 Call Today for Restoration and Construction in Carson City, NV
If your residential, commercial, or industrial building has been damaged by a natural disaster, you can rest easy knowing that Lawton Construction & Restoration, Inc. has you covered in Carson City, NV. From water and flood damage to fire and smoke cleanup, we have trained construction and reconstruction crews ready to tackle your needs around the clock. We can even provide third party mold, lead, and asbestos testing, and help you with the removal process. We are just a phone call away, so don't hesitate!